Meet Our Team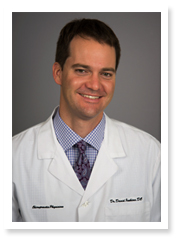 Dr. David J. Jenkins, D.C.

Dr. David Jenkins was born in Austin, Minnesota and raised in DeLand, FL.

Dr. Jenkins chose to be a Chiropractor from personal experience as a chiropractic patient. His journey began in his teens, "Growing up I originally wanted to become a dentist to follow in my Dad's footsteps and take over his office. But growing up as a beach lifeguard and longtime Surfer I began noticing some back pain from running on the beach. My Dad informed me that I should visit his friend that was a local Chiropractor in DeLand for help. I started receiving Chiropractic Adjustments and began noticing great relief with the back pain and found out how effective Chiropractic Care was so at that point I began the journey to become a Chiropractor."

Dr. Jenkins moved to Missouri to attend Logan College of Chiropractic in Chesterfield, MO. After graduating in 2003, he moved back to Florida to be near his family and friends and to take his Chiropractic boards.

Another pivotal step in Dr. Jenkins' journey happened just before taking the boards, he explains, "my Dad who was 52 and very healthy had a sudden stroke, became paralyzed, and had to retire from Dentistry. After his initial hospital experience, he began rehabilitation with physical therapy and Acupuncture treatment. It was at that time I found the true value of Acupuncture. After experiencing my Dad's recovery I was very interested in gaining more knowledge, training, and experience to become certified in Acupuncture. In 2005, I graduated from the International Academy of Medical Acupuncture in Carefree, Arizona, and began my journey in helping patients heal thru Acupuncture, Chiropractic, and Rehabilitation."

After practicing several years in Orlando, Dr. Jenkins had the opportunity to join in the practice of an Orlando Orthopedic Surgeon. He gained over 5 years experience there while running 2 offices helping patients recover from injuries related to Auto Accidents, Sports Injuries, Acute trauma, and general neck and back pain.

Dr. Jenkins also has post Graduate training and over 8 years experience practicing Acupuncture helping patients with Allergy Elimination, Smoking Cessation, Weight Reduction, pain management, headaches, neck and back pain relief, and pain relief in the hands and feet.

Dr. Jenkins has many years of experience treating patients with Spinal Disc injuries using spinal decompression and spinal traction, spinal rehabilitation, core strengthening rehabilitation, Acupuncture, Chiropractic Adjustments, and "MUA" Manipulation Under Anesthesia.

Dr. Jenkins has advanced experience in rehabilitation with patients following surgery, fracture rehabilitation, severe neck and back injuries including cervical and lumbar disc herniations, and advanced experience including full rehabilitation on patients with sports and Auto Accident injuries. Dr. Jenkins is also well trained in several of the latest techniques in Auto Injury rehabilitation, Chiropractic, Rehabilitation, Spinal Decompression, and Acupuncture.

Dr. Jenkins has graduated from several post graduate programs including studying at the prestigious SRISD (Spine Research Institute of San Diego) in Whiplash and Brain Traumatology headed by Dr. Arthur Croft one of the most well known researchers on Auto Accident related Injuries. Here Dr. Jenkins acquired a wealth of knowledge on Auto Injuries, Accident Reconstruction, Treatment for Auto Accident related injuries, Biomechanics, and Medicolegal forensics.

Today Dr. Jenkins is the owner and practicing Chiropractor at the Seminole Chiropractic Center in Casselberry, FL for over 11 years where the patient comes first and the patients goals of relief from pain and injuries are our main priority.

Seminole Chiropractic Center's approach to patient care is putting the patient first by listening to the patient's needs to find out how to serve them best and then custom tailor and treatment plan to serve the patient best for efficient, fast relief so that the patient may return to their busy active lifestyle that they once enjoyed.

In his limited free time, Dr. Jenkins enjoys Big Wave Surfing, Fishing, Martial Arts, and Softball.


EDUCATION
Daytona Beach Community College A.A. degree
Logan College of Chiropractic B.A. degree
Logan College of Chiropractic Doctorate of Chiropractic 2003
Post Graduate Fellowship from the International Academy of Medical Acupuncture in Arizona.
Post Graduate Certified from Dr Arthur Croft in Whiplash and Brain Traumatology Studies in 2011
Post graduate Certification in Manipulation under Anesthesia from Texas Chiropractic College
Professional Experience
Over 11 years experience serving others thru Chiropractic
Certified in Acupuncture
Advanced Experience with Spinal Decompression
Manipulation Under Anesthesia
Advanced training in Rehabilitation and physical therapeutics
Over 5 years experience and training working with an Orlando Orthopedic Surgeon
Specialized Skills
Auto Accident Injury rehabilitation
Disc Injury relief
Allergy Elimination
Neck and Back pain relief
Arm, leg, hand and foot pain relief
Professional Societies/Organizations
If you have any health questions, please call (407) 442-1022 for a consultation with Dr. Jenkins to begin your recovery today!

​We look forward to serving you.